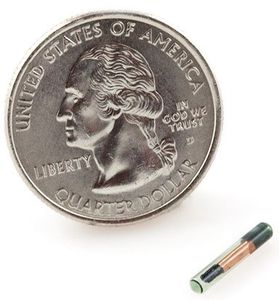 On connaissait déjà les voitures trackables, les chiens trackables et même les geocacheurs trackables grâce a leur tatouage numéroté par un numéro de tracking officiel ... Plus de 150 personnes possédent un tatouage trackable avec leur propre icone délivré par groundspeak après reception d'une photo du tatouage.
Mais certains vont encore plus loin en se faisant implanter une puce électronique !!!
Plutôt effrayant n'est ce pas ?
Le geocacheur 'implanté' se nomme kjwx, il est Néo-Zelandais.
Visitez son profile ici: http://www.geocaching.com/profile/default.aspx?guid=d40a88bf-3a08-42a2-9d9c-18644346c0af
Give yourself a hand for locating The Mark Of The Geocacher - the world's first subcutaneous TB. Please be sure to discover this trackable here at Geocaching.com and leave a note saying where you met kjwx.

NB: You will need an NFC-capable Android, Windows or Blackberry smartphone for this operation.

For those interested in the science behind this TB: Inside my right hand, I have a 2x12mm Radio Frequency Identification (or RFID) tag - much like the microchips we put in our cats and dogs. It runs on the 13.56MHz spectrum and is fully compliant with Near Field Communication technology.

Before you ask, yes it did hurt to get implanted. No, I don't worship Satan, unless he's a geocacher and then maybe I'd consider it.

No, a shady Government or geo-organisation can't track my every movement; the tag is passive so requires a reader and power source to be brought to it. As its maximum operating range is only 5mm, I'll likely notice if somebody is standing THAT close. And, no, I don't fret that somebody will cut off my hand to access my chip.

In comparison: Passive RFID tags work much the same as our own TBs - they can't be tracked in real time; only after the fact and only with the right software.

My trackable's name plays on the common accusation leveled at voluntary microchip implantees that we all bear the Mark of the Beast, the anti-Christ symbol displayed on the forehead or right hand of devil worshippers in the Bible. And the accompanying artwork is adapted from an Andy Warhol original on the same subject.

Just another Geocaching blog
Le blog de kjwx